10 Behaviours of Successful People
10 Behaviours of Successful People™
Learn the secrets of successful people who are highly productive and get results.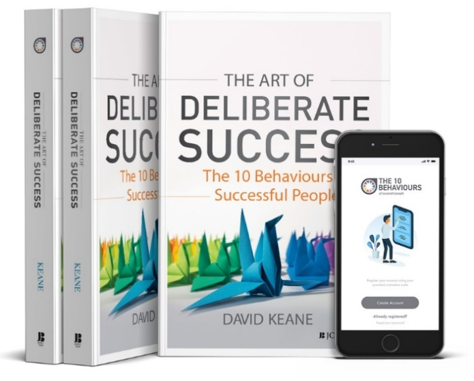 Based on the best-selling business book The Art of Deliberate Success – The 10 Behaviours of Successful People by Dr David Keane and published by John Wiley & Sons Inc., this programme teaches the strategies successful people use every day to achieve extra-ordinary results. You'll learn to work and live smarter.
The 10 Behaviours has been attended by thousands of people and is consistently highly rated by participants. Many have said it has been "life-changing" and provided them with a solid framework of tools and techniques that can be used in everyday professional and personal life.
Available in various formats – ranging from 2-day workshops to short, 1-hour lunchtime seminars, your 10 Behaviours programme can be customised for your team and your budget. Following your programme, coaching and learning circles ensure learning is transferred to the workplace and that the results are sustainable.
Contact us today to find out about attending the 10 Behaviours of Successful People Workshop or becoming an accredited 10 Behaviors Facilitator
Outcomes
Organisational benefits:
Empower your people with tools and techniques for greater productivity
Have an engaged workforce that have a clear line of sight to organisational goals
Reduce organisational stress by improving the wellbeing of your people
Personal benefits:
Know what success really means to you
Work less, but achieve more
Improve your productivity
Be a better team player
Use some great tools to achieve big things
Dramatically reduce unwanted stress in your life
Balance your professional and personal life
Who Should Attend
The 10 Behaviours is suitable for anybody wanting to develop a successful and productive life. Typically, attendees are:
Interested in achieving their full potential in all aspects of their lives.
Wanting to learn personal productivity tools to reduce stress, overcome procrastination, and enable better concentration on tasks.
People who have too much to do and too little time.
Professionals who are early to mid-career and want to get to the next level.
Individuals who want to achieve better work/life integration.
The Book and App
Each programme participant receives their own personal copy of the 10 Behaviours book. The book is an extensive resource and includes a detailed analysis of each of the 10 Behaviours along with recommendations for taking action and staying motivated.
You also receive a unique activation code which unlocks the 10 Behaviours App (available on Apple and Google platforms). The App contains an audio version of the book, along with a 100-question quiz where you can track your 10 Behaviours and measure your progress over time.